Weltweite Krisen sind zur neuen Norm geworden: vom Klimawandel und COVID-19 über Migrations- und Fluchtbewegungen bis hin zur Rückkehr der Taliban in Afghanistan und dem Versuch westlicher Staaten, mit der Situation vor Ort umzugehen. Durch die Sozialen Medien nimmt die Welt an Krisen rund um den Globus in Echtzeit und in immer schnellerem Tempo teil.
W

iderstandsfähigen Journalismus und Zivilgesellschaft stärken

Jede Krise bringt neue Ideen hervor und bietet damit neue Chancen für Akteure der gesamten Medienbranche. Was können die Branche aus der Krisenbewältigung lernen? Wie können wir unsere Zukunft langfristig aktiv gestalten, insbesondere angesichts der sich ständig ändernden Herausforderungen? Welche Rolle spielen Medienschaffende in der globalen digitalen Transformation? Und wie können wir Journalismus nachhaltig stärken und gegen zunehmende Einschränkungen von Medienfreiheit, Pluralismus und Menschenrechten absichern?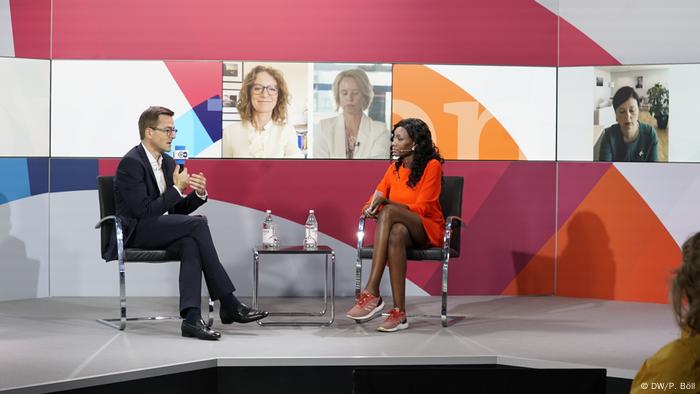 Beim Global Media Forum 2021 moderierte DW-Journalistin Liz Shoo die Session "Looking into the future I - A fruitful endeavor? Social media and journalism".
Dies sind einige der Fragen, die die Teilnehmerinnen und Teilnehmer des 15. DW Global Media Forum 2022 beschäftigen werden. Am 20. und 21. Juni kommen Medienschaffende aus aller Welt am DW-Standort Bonn sowie online zusammen. Weitere Themen der internationalen Veranstaltung:
Wie kann der Journalismus seine Rolle als zuverlässige Informationsquelle aufrechterhalten, insbesondere in Krisenzeiten?

Wie gehen Wissenschaftsjournalistinnen und -journalisten am besten mit brisanten Themen wie Klimawandel, Pandemien und Migration um?

Jenseits der Krise: Wie wird News-Berichterstattung belastbar und nachhaltig?
Lösungsorientierter Journalismus: Welche Werte bringt konstruktiver Journalismus in die Redaktion?

Journalismus oder Aktivismus? Die rote Linie zwischen Berichterstattung und Propaganda.

Unter Druck: Welche Strategien können helfen, die Pressefreiheit angesichts staatlicher Repressionen zu stärken?

Wie beeinflusst die Digitalisierung die Art und Weise, wie wir als Einzelpersonen und als Gesellschaft miteinander kommunizieren?
Welche Geschäftsmodelle fördern eine widerstandsfähige, unabhängige Presse?

Wie prägen Vielfalt, Rassismus und Antirassismus die Medien und unsere Gesellschaften?

Welche Rolle wird KI in der Zukunft in den Redaktionen spielen?

Welche lokalen (Medien-)Initiativen haben sich international durchgesetzt?
Shaping

tomorrow, now!

Das 15. DW Global Media Forum ist ein interaktives, interdisziplinäres "Zukunftslabor", das innovative, zukunftsweisende Lösungen für Medienschaffende erforscht und sich zum Ziel gesetzt hat, einen widerstandsfähigen Journalismus und eine zukunftsfähige Zivilgesellschaft zu fördern - und damit die Demokratie zu unterstützen.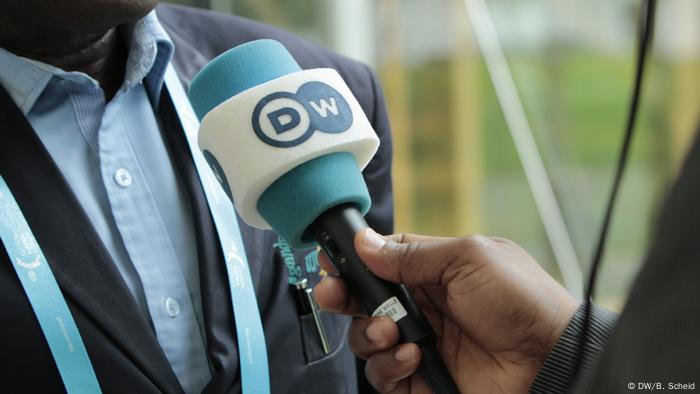 Das Global Media Forum bringt Medienschaffende und Experten aus Politik, Kultur, Zivilgesellschaft, Wirtschaft und Wissenschaft zusammen.
Save

the date

Nichts verpassen: Über den Newsletter des DW Global Media Forum informieren wir rechtzeitig über Panels, Rednerinnen und Redner und Impulse zur Konferenz. Folgen Sie dem DW Global Media Forum auch auf Twitter, LinkedIn und Facebook.

Das DW Global Media Forum ist eine interdisziplinäre, internationale Plattform für den Austausch von Medienschaffenden und Entscheidungstragenden aus Politik, Zivilgesellschaft, Kultur, Bildung, Wirtschaft und Wissenschaft.