An intellectual father of the Occupy movement, Chomsky will address the international media congress on its opening day, Monday, 17 June 2013, 5:30 p.m. The widely respected academic and author will share his thoughts on the main theme of the three-day meeting in Bonn, "The Future of Growth – Economic Values and the Media".
Shiva, a recipient of the Right Livelihood Award and a member of the Club of Rome, will speak on the last day of the event, Wednesday, 19 June 2013, 1:00 p.m. Time Magazine named Shiva an environmental hero and Asia Week has called her one of the five most powerful communicators in Asia.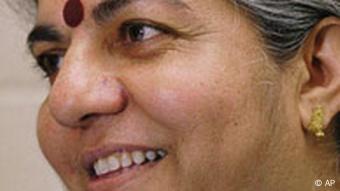 Vandana Shiva
Chomsky's publication, "Occupy", is a collection of his speeches given to globalization critics that give compelling context to the recent protest movements. In the word's of the editor, "In his talks, Chomsky points out that one of the movement's greatest successes has been simply to put the inequalities of everyday life on the national agenda, influencing reporting, public perception and language itself."