DW: The Kölner Stadt-Anzeiger (KStA) has a reputation as a quality daily newspaper — even in turbulent economic times. For the past 18 months, your readers have been paying for selected online articles. As editor-in-chief, does the paywall worry you at times?
Carsten Fiedler: Not in the least, on the contrary: the digital subscription model of KStA PLUS will continue to be our most important strategic project in the coming years. It's about having a business model that ensures regional quality journalism in digital form as well.
This is why KStA PLUS is also increasingly becoming our focus in the editorial area with even more in-depth analysis pieces, investigative research, comment and opinion, but also, for example, our expert restaurant reviews: These are journalistic content forms whose added value is immediately tangible.
This is why we are relying on these things a lot more than we used to. And I can happily say that we are seeing a lot of acceptance of these formats. Our readers understand that quality digital journalism has to be financed somehow, too. The proof of that is the fact that subscription numbers are constantly going up.
Read more: German newspapers facing readership crisis
Finger on the digital pulse
Media companies are constantly trying to find new opportunities to distribute their editorial content across a range of digital platforms. Does this give you a better idea of what kind of journalism people want?
The distribution of our content via digital channels produces a nice side effect for us in that we are able to measure the interest in each and every article. We can know in real time what topics are most important to our users and what resonates with them. This is a very intensive form of interaction. Metaphorically speaking, we have our finger on the pulse of our readers, we know and understand their needs better than we would with any kind of survey and more reliably than through pure journalistic intuition.
This will also be essential in the future. We will continue to base our product on criteria such as relevance or editorial responsibility. But metrics aren't everything. And metrics are also not the work of the devil — there's no need to be scared of them. When applied responsibly, these figures coupled with quality reporting lead to better content and therefore also to better journalism.
Read more: Publisher's strategy: make money online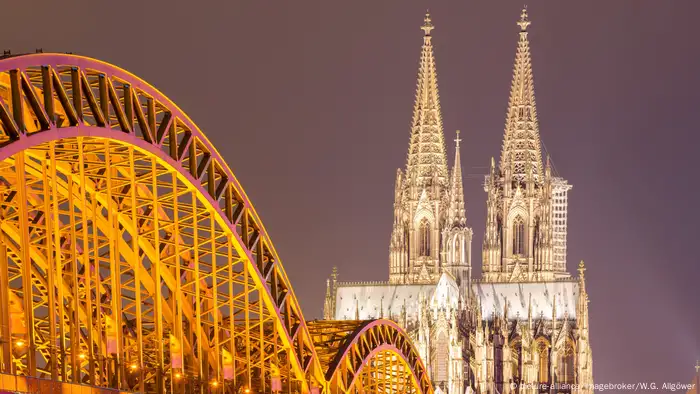 KStA covers events and news in Cologne and surrounding areas
Has the mixed model, with both free content and selected articles behind a paywall, proved successful?
Absolutely. Both models need to have a rightful place in our product range. We rely on a well-balanced mix. We would like our users to be able to read lots of interesting articles for free, while also coming across our exclusive PLUS-articles behind the paywall so they can become curious about what we are offering.
We also use the far reach of free content to persuade as many users as possible to eventually take up our digital subscription offer. That is the strategic argument for free content, but of course it's not the only one.
In terms of content, we will continue to provide information that directly affects people's free of charge to everyone. One current example from the coronavirus crisis: The current rules of conduct or community protection measures are and will remain available to everybody. But at the same time, the proportion of journalistic content that is available only to our subscribers will increase — for the very reasons I have just mentioned.
It is often local journalists who come across scandals and uncover them through intensive research. This is good for democracy and brings acclaim to that particular media organization — but this usually costs more money as well. What is the solution here?
We were in search for a solution when we arrived precisely at the digital subscription model that I've been talking about. We rely on our readers' awareness of the value — in both senses of the word — of investigative research and journalistic independence. Both are part of the job, especially for a regional paper.
But we will only be able to perform this role if it continues to be of value. When it comes to how we spend our money, I am convinced that top-quality researchers, reporters and commentators are at the core of our business. Anyone who tries to save costs in this area damages the core of their brand.
Read more: Interview: Wikipedia founder Wales laments die-offs in local press worldwide
Journalism in a new age
Politicians can use social media to bypass the traditional journalistic gatekeepers. Are these new media formats displacing journalism, with its function to monitor and protect democracy?
The term "media" assumes that between the sender of the information and the recipient there is a distance that has to be breached by a third party. The internet and social media have eliminated this seemingly necessary role of journalism — as well as the classic gatekeeper function.
In the age of digitazation, everyone – individuals, groups, institutions and organizations – can be their own broadcasters. But I don't see that as a threat to journalism and certainly not as a loss of its function in society. On the contrary: choice, checking sources, fact-checking, contextualization, evaluation, networking, going into greater depth – all that is more important now than ever.
Journalism therefore has to redefine its role within the fabric of communication, and of course it has to use the new worlds of communication as a source of information.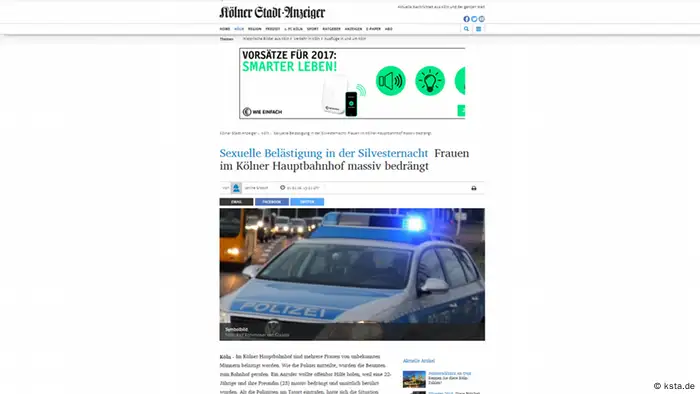 KStA won journalism awards for its coverage of the assaults that took place on New Years Eve of 2016
Read more: String of New Year's Eve sexual assaults outrages Cologne
Rasmus Kleis Nielsen from the Reuters Institute Oxford advises media organizations to return to their roots. Would that help journalism, or what steps should news outlets take to leap forward?
We should take this warning to heart, also in light of the aforementioned challenge in redesigning and, in the long run, replacing the classic business model of newspaper companies.
With regard to our digital products, I think that we have to focus on whatever makes us stand out from the competition in the marketplace; on what we can do better than others. And that is good local and regional journalism. That's where we have to put all our effort and energies.
Carsten Fiedler has been editor-in-chief of the Kölner Stadt-Anzeiger since 2017. Founded in 1802 as the "Kölnische Zeitung," the daily newspaper is part of the DuMont media group. Fiedler has worked for the DuMont media group in a number of different roles, most recently as editor-in-chief of EXPRESS. With its digital products, especially on mobile channels, he developed EXPRESS to a brand that became one of the strongest German regional news sites.

This interview was conducted by Martina Bertram.