The pan-European project now reaches the young target group (18-34 years) via Instagram, TikTok, Twitter and YouTube with new partners and in four additional languages: Dutch, Slovak, Bulgarian and Hungarian. Until now, ENTR content has been produced in English, German, French, Portuguese, Polish and Romanian. These languages will continue.
DW Director General Peter Limbourg: "ENTR overcomes borders and shows a common Europe characterized by cultural diversity. The project is a unique success of international cooperation and the growing number of users confirms how relevant European topics are for young people in the EU."
In January 2023, ENTR reached over 19.6 million page and video views across all platforms and languages combined, more than tripling January 2022 views. ENTR now reaches almost 14,000 followers via its TikTok channel, which was launched in October 2022.
Patrick Leusch, ENTR Project Director: "With the expansion to ten European languages, we are achieving an important goal with ENTR that we set ourselves at the beginning of the project. This motivates our entire pan-European team and shows how dynamically ENTR is developing and growing."
Funding
s
ecure
d
ENTR has been funded by the EU Commission and the Federal Foreign Office since its launch in March 2021, with continued funding secured until July 2024.
ENTR focuses on topics that concern young people: Everyday issues such as education, work and university life; social issues such as solidarity, migration and justice; and political matters like democracy and peace in Europe. Instagram posts on the war in Ukraine include a timeline of events, a video diary about fleeing the country, and a post about Ukrainian women and their hopes for the future.
In the new format "Moodring", two participants discuss controversial topics in each episode and negotiate cultural differences and similarities between young people in Europe.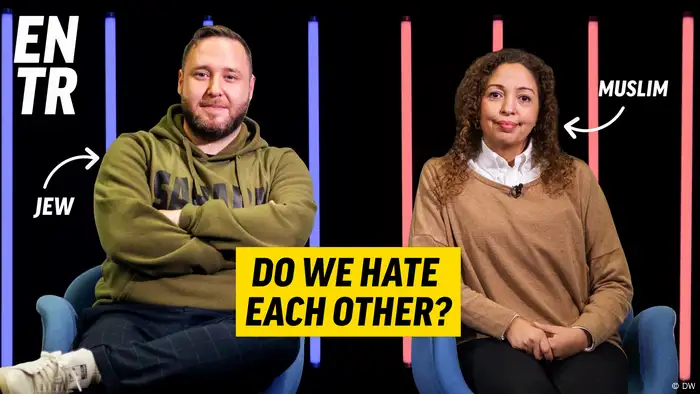 The first episode of "Moodring" is about whether or not Jews and Arabs can be friends with each other.
In addition to Deutsche Welle (GERMANY), which coordinates the project, and France Médias Monde (FRANCE), the following partners are part of ENTR:
ENTR is funded by the European Union and the German Foreign Office. The media initiative aims at promoting European youth exchange and raising awareness around a common identity, while also highlighting the diversity of perspectives across Europe.