On 23 May, DW celebrated the German Diversity Day (#DDT23), which was initiated by the Charta der Vielfalt e.V. Hundreds of companies and organisations nationwide took part in #DDT23 to draw attention to Diversity in the working environment.
Information booths and hands-on activities in Berlin and Bonn
The DW Diversity Team organised information stands in front of the canteens in Bonn and Berlin and invited colleagues to participate in numerous activities. Director General Peter Limbourg paid a visit in Berlin and Administrative Director Barbara Massing in Bonn, where they talked to colleagues and took part in the Diversity-Quiz.
The participation at both locations was high and the idea of a Diversity-Lunch was very well received. For this, colleagues could pick "raffle tickets" with different Diversity terms at the information booths. During lunch, the colleagues exchanged ideas and were able to read up the definitions of the terms on DW's internal Diversity page.
All participants were particularly interested in the "DW fact check". The questions about how many young employees under the age of thirty work at DW or how many male colleagues took a parental leave last year led to surprised reactions. Regardless of whether the answers were right or wrong - the participation allowed colleagues to take part in a raffle where shirts with the slogan "Open Minds" could be won.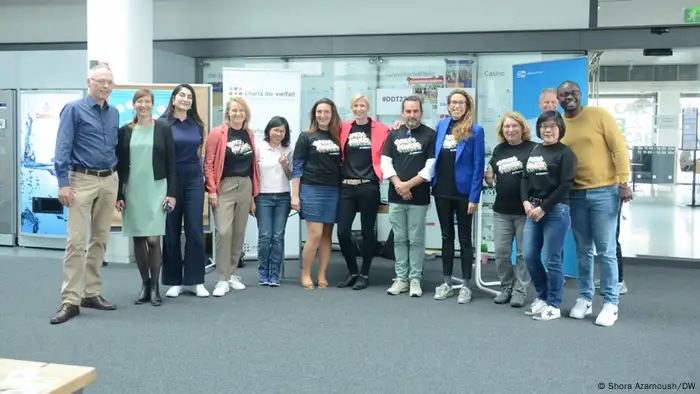 DW colleagues celebrate the German Diversity Day together in Bonn.
Online discussion on the opportunities of Diversity in the company
At the end of #DDT23 at DW, an online discussion took place in the afternoon on the topic of "Successfully achieving more Diversity and Inclusion - even in challenging times". Moderated by Dr Erkan Arikan, Director of DW-Turkish, Zahra Nedjabat, Manuela Kasper-Claridge, Barbara Massing, Marina Caba Rall and external guest Miriam Camara, Managing Director of Akoma Coaching & Consulting, talked about where the opportunities of Diversity within the company lie and why the discourse is also indispensable for DW's values.
Chief Editor Manuela Kasper-Claridge explained how the CR Council works with cross-directorate Diversity & Inclusion Multipliers. She also pointed out that "Diversity is not always visible. There are people who have a difficult social background, come from educationally disadvantaged families or have a non-visible disability. Even if you don't notice it - they are diverse."
In the Q&A session that followed, Zahra Nedjabat spoke about the culture of making mistakes in relation to Diversity and Inclusion. "When we talk about Diversity, we usually go a bit slower. One wrong word, one wrong sentence and a whole range of emotions and conflicts come up." Despite education and training in these areas, mistakes are only human, she said. This should be taken into account as long as one learns from them.
Please note: This content has been adapted using translation software.