Stakeholders from business, politics and society came together under the motto "Mission Diversity - We need it now!".
The promotion of diversity is increasingly becoming the focus of society as a whole. "We all benefit from diversity. We, that means everyone who lives here, who feels they are part of it." But: "Racism destroys our sense of cohesion," said Minister of State Reem Alabali-Radovan, Federal Government Commissioner for Migration, Refugees and Integration, right at the start of the conference on diversity 2023. The tone was set.
Antisemitic slogans on German streets and simultaneously far too little expressions of solidarity with Israel were lamented by Dr Felix Klein, Federal Government Commissioner for Jewish Life in Germany. Nevertheless: "This is not the year 1938. The venom of antisemitism still exists, but it is particularly strong right now. However, in 2023 we live in a stable democracy with a constitutional state that protects and defends itself."
Diversity as a solution for better coexistence
In their statements, all participants underlined the need to stand up for social cohesion - now more than ever. Diversity is THE topic of the future in Germany. Because millions of baby boomers will be retiring in the upcoming years, the labour shortage will become even more acute. Dr Erkan Arikan, Head of the Turkish Editorial Department and member of the DW CR-Council, moderated a panel that looked at possible solutions to this problem. And participants got straight down to business. What is Germany's international standing in the context of increasing right-wing populist tendencies? Is the German economy attractive enough for skilled workers from abroad? And: What conditions need to be created so that many different people can work better and more effectively together?
Of course, the 22 million people with a migration background who already live in Germany must also be considered in this context. They are clearly underrepresented in many areas of the world of work, as Lisa Paus, the Federal Minister for Family Affairs, Women, Senior Citizens and Youth, self-critically emphsized. In the public sector, for example, the employment rate of people with immigration experience is only 12 percent, she said.
This brought the conference back to other core diversity topics: equal opportunities and social justice in the workplace require a holistic approach to diversity that includes all dimensions. As a long-standing cooperation partner, DW plays a key role in helping to shape the content of Germany's largest conference on diversity. Participants were given constructive input through short films, which Deutsche Welle once again contributed this year. The variety of these clips and the comprehensive global view of diversity underlined the strengths and necessity of Deutsche Welle as a responsible medium in shaping opinion on the basis of facts.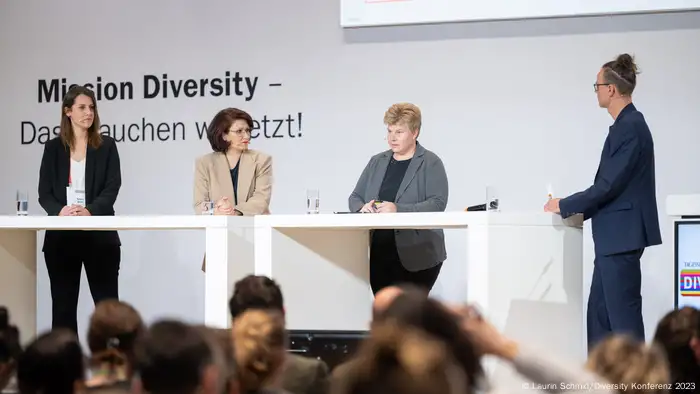 DW economic journalist Mathis Richtmann moderated the panel "Diversity cannot be promoted without anti-discrimination measures"
Conference offers exchange through practical examples and workshops
The event focused on the current state of organisational culture in the corporate world and government institutions. Diversity Management departments have now become established in many companies. But what does it look like in practice? In almost all panels and workshops, the topic of "credibility" was mentioned as the most important benchmark for a good diversity management strategy. According to Bettina Lutz, who is jointly responsible for diversity at the pharmaceutical company Pfizer, what is needed above all is a genuine commitment and an exemplary culture on the part of company management, as well as constant dialogue and close communication with employees in order to bring about the desired change. Rene Schaar, Equal Opportunities Officer at NDR and known as the "inventor" of the wheelchair-bound puppet Elin in Sesame Street, summarised diversity management in a refreshingly unacademic way: "Don't hide, don't pretend, don't be afraid of normativity. Openness, transparency, honesty. Nobody is perfect!"
Despite all the idealism, the legal framework for the protection of employees is still rather vague, at least according to Ferda Ataman, the independent Federal Commissioner for Anti-Discrimination. "According to the General Equal Opportunities Act (AGG), anti-discrimination bodies are supposed to be set up, but nothing happens if they're not". This is because, as Ataman said at a panel moderated by DW business journalist Mathis Richtmann: "Diversity cannot be promoted without anti-discrimination measures". Ataman's call for a reform of the 2006 law is currently the subject of controversial political debate. Nevertheless, even without a legal requirement, addressing experiences of discrimination in a sensitive and responsible manner at work is one of the benchmarks for a corporate culture that takes diversity seriously. Traditional ideas must be questioned and different, as well as new, perspectives must be respected. An intense but necessary process for everyone.
The main focus of the second day were online workshops, which focused on topics such as sexism in the workplace, neuroinclusion and age diversity. There was also a wide range of concrete recommendations for the strategic and operational implementation of diversity measures at base. For example, MAN Truck and Bus SE presented a best practice nugget on how to sensitise and inspire trainees for diversity, equity and inclusion (DEI) and thus promote cultural change together with Gen Z.
Diversity not just a digital cultural issue, but an economic factor
Mina Saidze, German Afghan Data & AI Leader, presented a constructive vision of the future. She is committed to Inclusive Tech, as means to a fairer society with the help of artificial intelligence (AI) and calls on organisations to undergo an evidence-based cultural change in terms of DEI. Politicians should act on the new trend with a digital education reform, for a better use of AI. According to Saidze, "Germany needs outliers from the data set, Germany needs diversity" and AI could be a very useful help here.
Taking individuality into account and being successful in business at the same time - these are the challenges of the future. The renowned behavioural economist Prof. Ulrike Malmendier pointed out that diversity is not only an ethical value, but also extremely worthwhile from an economic point of view.
Federal Minister Lisa Paus summarised: "Diversity is always an effort, but also a source of strength for the future."