Cliches, it could be said, exist in order to be subverted. That is, simply stated, the most important message of the theater project "The Journey/Drom," which just premiered in Berlin. Yet, the multi-cultural ensemble from Serbia, Kosovo, Hungary, Romania and Germany attempted to do much more than simply pick apart preconceived notions. Above all, the project's Roma and non-Roma actors wanted to create a sense of understanding for the complexity of the refugee problem confronting Western Europe. Essential questions were posed - and it became clear to many in the audience that answers, if any were to be found, would, by necessity, remain incomplete.
What conditions did the Roma flee? What difficulties did they face on their journey? What were their dreams - and what became of these? Are there good and bad refugees? What does "safe countries of origin" mean? And for whom are such countries safe? Questions upon questions …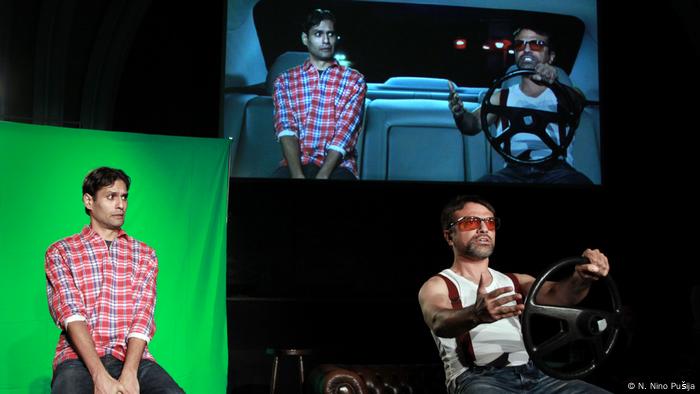 A scene with Peter Zoltan Onodi (left) and Hamze Bytyci
The preparation
For Roma hailing from the Western Balkans, the only route to Germany and potentially to asylum, runs between Novi Sad, Budapest and Berlin. Many people undertake the more than 1,000-kilometer (620-mile) journey in overcrowded and unsafe vehicles - still others set off on foot - in hopes of getting a new start in an unknown place, leaving their homes and their roots behind.
The project's actors collected true stories from Roma that had undertaken the journey, during a number of trips to the aforementioned cities. Those very personal stories formed the basis from which a stage production as well as a picture novel were developed.
The team documented just what defines Roma identity and culture today. The focus of the team's research quickly became this minority's constant struggle for acknowledgement, and the prejudice and racism that Roma are subjected to in virtually every social, political and economic context throughout the whole of Europe. Brina Stinehelfer, one of the project's initiators, talked to DW about the hopeless situation of those affected.
"There are different fates, from different regions," she said. "The situation changed drastically after Germany declared West Balkan countries to be 'safe countries of origin' in 2014. That made a new life in Germany impossible for many of these people." The performance artist and actress told of Roma that were born in Germany and were then sent back to a "home" that they had never known after having lived in Germany for more than 20 years.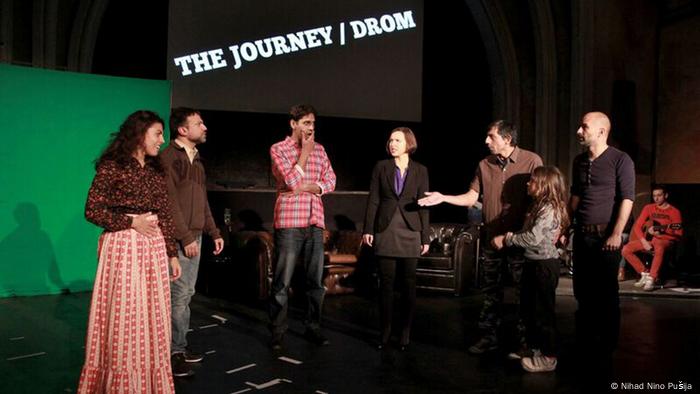 From left to right: Mihaela Dragan, Hamze Bytyci, Peter Zoltan Onodi, Brina Stinehelfer, Branislav Mitrovic, Liou de Nisse and Kristof Horvath
The result
The ensemble hopes to help facilitate a positive perception and better representation for a group that is in fact the largest minority in Europe. Through intercultural exchange and the telling of stories seldom heard, the artists seek to aid in mutual understanding and to improve the public and political image of Roma, in hopes of helping bring about a more peaceful coexistence in multicultural communities.
"The fact that we always seem to be on the move, is not necessarily by choice. It has become evident these days that we are forced to be so," Hamze Bytyci told DW. So-called "safe countries of origin" may be safe for dominant majorities, but not for minority Roma, says the artist. Originally from Kosovo, Bytyci has been in Berlin for years, fighting for the rights of his minority.
The results of the teams' comprehensive research were artistically transposed into a satirical play - a persiflage of the TV trope of the historical reenactment. A play in a play, in which actors take up roles in order to play out a pseudo-documentation in front of a television studio audience - that is, the theater audience; a documentation that torments the actors just as much as the audience.
Every expectation as to how a Roma event should "look" is consequently destroyed bit by bit - with a major dose of black humor, a touch of chaos and oppressive moments that give a hint of just what it means to be Roma in today's Europe.
An initial work-in-progress version of the piece was presented at the Gorky Theater's "Studio Я" on April 8, 2016, International Roma Day.
The project "The Journey/Drom" was initiated by "Per Aspera" (Berlin), then developed and presented in cooperation with "RomaTrial" (Berlin), "Kulturanova" (Novi Sad) and "Pro Progressione" (Budapest).