What role does Internet Freedom play in dealing with editorial topics within DW?
Identifying fake news and disinformation is part of DW's educational work in that field. There are various reasons for the spread of falsehoods on the Internet. Countries like Iran and China try to prevent information from entering the country in the first place. DW has been blocked in Iran for ten years now.
We see it as our task to make people aware of the issue, to explain: Who censors where? And then to show ways of circumventing censorship with the help of software. Temporary restrictions on the Internet often occur in the run-up to elections, most recently in Tanzania, but also during anti-government protests, for example in Hong Kong, Thailand or Belarus. In these cases, we can proactively report on possible upcoming censorship measures in our programs.
In view of increasing restrictions in the area of Internet Freedom: What does DW do to circumvent restrictions and continue to be able to provide people with information?
In our target regions, we have been working on the issue of circumventing censorship for a long time. We've had great success with Psiphon. It's a tool that DW is currently making available to people in Belarus and Thailand. The market for technologies that can be used to circumvent censorship on the Internet is familiar to us and have excellent networks. However, it is important to know that you cannot simply "buy" such apps at trade fairs. The market is small and trust must first be built with the provider. We don't want our users to use dubious VPN (virtual private network) tools that may work well, but at the same time spy on their own data.
What measures is DW taking in that regard?
In order to give as many people as possible access to DW content, we built a censorship bypass into our DW app this year. At the push of a button, our app then also works in Iran or China, for example. We were also able to improve the convenience of our website via the Tor network, which is robust against censorship.
More and more countries are discussing the possibility of having their own Internet. One concern is that in the global space of the Internet, political particularism could arise. What would that mean for information providers like DW?
These efforts have been going on for a long time. China has led the way. Anyone there who wants to distribute content over the Internet needs a license. If they don't have one, the websites can't be delivered via the Chinese data highways. Content that is undesirable in the country is rigorously blocked.
China has managed to create substitutes for popular international offerings from Google, Amazon and Facebook. Countries that intend to close off their Internet lack these offerings, and so - unlike China - they face an unfulfillable demand from their populations.
For international information providers like DW, this means going directly to our target regions. We have to be close to the national platforms and the local branches of international providers like Google, Amazon, Facebook. If we produce in our target regions and deliver our content from there, we have a good chance of reaching our target groups even if the World Wide Web is reorganized.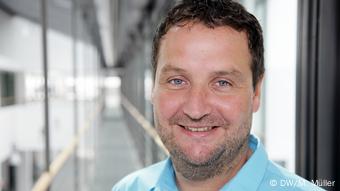 Oliver Linow
has been responsible for censorship circumvention at Deutsche Welle since 2012. While at the beginning the focus of this task was the technical area, the growing importance of the topic has made clear that international networking and knowledge exchange is becoming more and more important. For seven years, Oliver Linow has been part of the DG7 Internet Freedom Working Group, which brings experts from international broadcasters such as the BBC, France Médias Monde and USAGM together. One of the group's most recent successful projects was the launch of Tor Onion Services for BBC and DW.