The podcast, which is aimed at a young African target audience (20 to 35 years old), covers topics such as mental health, relationships, society and careers. Each episode of this new season features a renowned South African personality.
Nozibele Qamngana-Mayaba, who won the "Spotlight of the Year" award at the African Podcast and Voice Awards (APVA) for hosting season one, will continue to host the new season. The podcast also won bronze at The Anthem Awards in the category Education, Art and Culture while Qamngana-Mayaba was a finalist in the recent Association for International Broadcasting (AIBs) awards in the Presenter of the Year – Radio / Audio / Podcast category.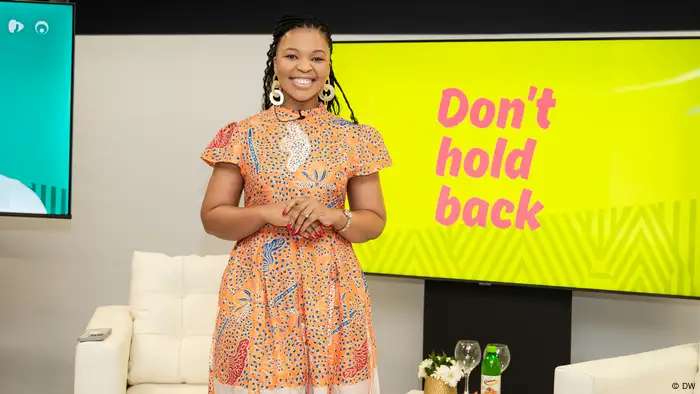 Host Nozibele Qamngana-Mayaba at the launch event for Season 2 on November 15 in South Africa.
Claus Stäcker, DW Director of Programs for Africa: "With the second season, Don't Hold Back is no longer an experiment, we know that Nozi is a popular host, we know that our topic focus is well received, and we know how we can bring the worlds of digital audio and analogue radio together. The response from users and international awards are proof of this. That's why we're really excited at DW to be starting a second season."
Asumpta Lattus, DW Head of Department English for Africa: "Since we started the project in early 2022, we have seen how members of our teams, the DW team in Bonn, our host and the Kagiso Media team in two different cities in South Africa, work very hard and grow together as one team despite the distance. Everyone on the team brings experiences and points of view that allow us to bring in authenticity and produce stories that are relevant to our audience."
Diane Macpherson, Head of On-Demand Content at Kagiso Media Radio (KMR): "Don't Hold Back has forged a special place within the Jacaranda FM and East Coast Radio podcast portfolio. It embodies the collaboration of a diverse global team, uniting talent across continents. This authentic and relatable podcast tackles important topics that young South Africans asked for through extensive market research, and we're confident that Season 2 will not disappoint."
The podcast is available on Jacaranda FM and East Coast Radio (both owned by KMR), as well as on YouTube and on most other podcast and audio platforms. New episodes and more information about the podcast are also available at dw.com.
DW is Germany's international broadcaster. As an independent media outlet, it provides unbiased news and information in 32 languages around the world so that people can form their own opinions. DW's work focuses on topics such as freedom and human rights, democracy and the rule of law, world trade and social justice, health education and environmental protection, technology and innovation. DW's TV, online and radio services generate 320 million user contacts every week. DW Akademie trains journalists worldwide, supports the development of free media, and promotes the German language with free learning opportunities.
Kagiso Media Radio (KMR) is one of South Africa's leading radio broadcasting and publishing companies. Its broadcast portfolio includes Gauteng's Jacaranda FM - SA's biggest independent radio station, and East Coast Radio, one of KwaZulu-Natal's top commercial radio stations. Kagiso Media Radio is a division of Kagiso Media (Pty) Ltd.