People in more and more countries are struggling with Internet censorship. For this reason, since 2012, DW has been using the censorship bypass tool Psiphon. The software was integrated into the DW app for iOS in the app's latest update.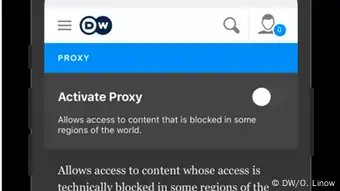 To activate the software in the DW app, users simply have to click on the new menu item "Proxy". All censored content will then be restored and displayed normally. Users will receive a notification confirming that they have circumvented any censorship blocks by activating the software. The content and their display on the app will remain as before.
The software will also be made available for the DW Android app soon.
"Circumventing censorship is a constant cat and mouse game. Governments with massive Internet censorship are of course doing their best to eliminate such loopholes," says Oliver Linow who is in charge of censorship bypassing at DW's IT and cybersecurity department.
DW provides an overview on how to navigate the Internet safely and anonymously and how to circumvent censorship.