In November 2020, DW announced an expansion of its journalistic offerings to include Hungarian as its 31st broadcast language, with the first reports to be published at the end of April. Hungarian was previously part of the German foreign broadcaster's programming from 1962 to 1977 and from 1993 to 1999. DW believes that time has come to once again produce journalistically independent content for a primarily young target group under the title 'DW Magyar' and to initiate diverse debates on European issues. The program, which is distributed by several partner broadcasters in Hungary, is aimed primarily at users between the ages of 20 and 35.
Director General Peter Limbourg: "Now is the time for DW Magyar. Many media in Central and Eastern Europe that have reported critically on their governments are facing various obstacles to their work or have had to give up. With our programming which will soon be available in 32 broadcast languages, we are responding to the growing demand for information among the general public, as well as to the increasing restrictions on media freedom and the risks faced by journalists around the world."
"We offer our audience true-to-life video reports from Hungary, Germany and other European countries, focusing on stories about current political, social, cultural and economic issues," said DW Managing Director of Programming Gerda Meuer.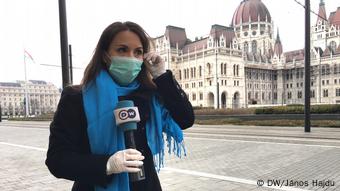 DW correspondent Fanny Facsar in Budapest.
"With our new offering in Hungarian, we want to enter into conversation with young people in an uninhibited and cosmopolitan manner and thus promote critical discourse about common values and challenges in Europe," adds Adelheid Feilcke, Head of Programs for Europe.
On Wednesday April 28, DW will first launch a YouTube channel in Hungarian with around 15 video reports and features, including several editions of the formats Europeo and Untold Stories. The magazine Europeo features 4 to 5 reports per episode on one topic from different European perspectives. In Untold Stories, reporters of the same age as the target group meet interesting people from Hungary and tell their touching stories. TV magazines, reports and (web) video formats will follow in the medium term.
For starters ten reporters and editors work for the team in Germany and Hungary.
DW has been recording very high usage figures for months. Since the summer of 2020, monthly access to its digital offerings has remained constant at a level of more than one billion.