By an overwhelming majority, lawmakers at the European Parliament on Tuesday decided that whistleblowers will soon be protected throughout the European Union from dismissal and legal prosecution if they uncover abuses affecting wide areas of EU law. Those who help them and journalists who publish information they provide will also be better protected from prosecution in the future.
So far, only 10 of the 28 states in the EU provide comprehensive protection for whistleblowers. A whistleblower is any informant who uncovers legal violations such as data misuse, tax scandals, fraud or corruption by making secret documents from companies or authorities public.
The rapporteur for the new law, French Socialist Virginie Roziere, said the recent scandals over tax avoidance in Luxembourg (LuxLeaks) and tax evasion in Panama (Panama Papers) have shown how great the uncertainty is for informants.
"On the eve of the European elections, Parliament sent a strong signal," Roiziere said Tuesday in Strasbourg at the adoption of the new rules, with 591 votes in favor and just 29 against. "It has listened to citizens' concerns and pushed for strict rules to ensure their safety, and the safety of those who speak out and denounce grievances."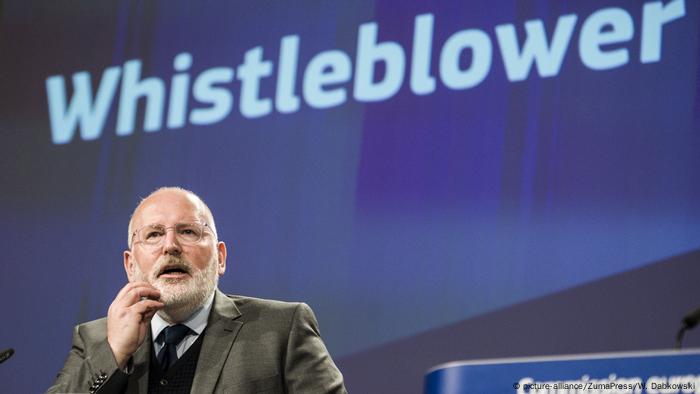 European Commission VP Franz Timmermans says whistleblowers shouldn't be punished for 'doing the right thing'
Protection from prosecution
The whistleblower who started the LuxLeaks affair over tax avoidance by large corporations in Europe in 2014 was convicted in Luxembourg together with a colleague and a journalist. The case went to the country's highest court before their suspended sentences were finally partially lifted.
In many EU countries, authorities and companies have so far been able to invoke the fact that employees leaked trade secrets or stole data. This should no longer be possible in Luxembourg in the future.
According to the new law, whistleblowers should be able to contact complaint offices via internal or external channels. Depending on the circumstances of the case, immediate publication in the media can also be legal — especially if there is an acute danger, such as from spoiled food or defective software.
"We should prevent whistleblowers from being punished, dismissed or sued because they are doing the right thing for society," said Frans Timmermans, vice president of the European Commission, in Strasbourg. "This is exactly what the new rules guarantee. Whistleblowers can now report breaches of EU law in a variety of areas."
These areas include money laundering, corporate taxation, public procurement, financial services, consumer and environmental protection and nuclear safety. The law, which requires all 28 EU countries to harmonize their standards, does not mention military security, foreign policy or state secrets.
WikiLeaks founder Julian Assange, who was recently arrested in London, would likely not enjoy the protection of EU law. He published confidential e-mails and documents on military secrets, including the misconduct of US troops in Iraq.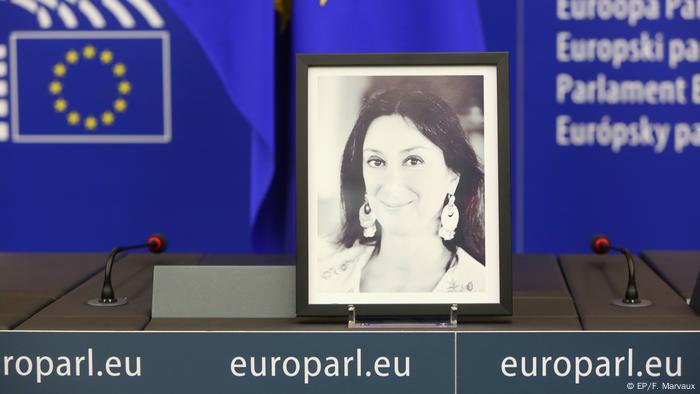 Maltese journalist Daphne Caruana Galizia was murdered in 2017 after reporting on the Panama Papers
Murdered journalists
German MEP Axel Voss, a representative of the conservative European People's Party group, recalled that two European journalists were recently murdered — in Malta in 2017 and in Slovakia in 2018 — presumably because they had published explosive material about corrupt politicians.
"The new rules for so-called whistleblowers are Europe's response to the terrible murders of journalist Daphne Caruana Galizia from Malta and Slovak journalist Jan Kuciak. They both researched the misappropriation of EU funds," Voss said after the vote in Strasbourg. "The member states will have to better protect whistleblowers in the future. It is unacceptable that many EU member states do not yet have any structures for this."
Read more: 2 journalists were murdered — but their investigations live on
EU member states now have to approve the law again in the Council of the European Union, but this is considered a formality. It will then be transposed into national law and is expected to enter into force in 2021. Malta and Slovakia are among the 10 countries in which the special protection of whistleblowers is already in force. However, those laws did not help Galizia or Kuciak. The remaining eight EU countries are Hungary, Ireland, Great Britain, France, Italy, Lithuania, the Netherlands and Sweden.