When autocratic governments take over and expand their power, independent media outlets are typically the first targets in the eyes of such political actors. What kind of reports of such violations do you currently have to address the most, and what methods of suppression are mostly being used against journalists?
The safety of journalists is an issue in every region of the world, from Mexico to Malta to Myanmar. [The fact t]hat journalists today are killed outside war zones is an indication of the gravity of the problem. Investigative journalists, in particular, are threatened for the work they do to expose organized crime, corruption and abuse of power.
Just this week, two Spanish journalists were ambushed and killed in Burkina Faso while investigating poaching practices. Only one in ten killings of journalists is ever investigated.
In addition to killings and physical attacks, journalists and media workers are threatened with prosecution, arrest, imprisonment, and - especially in the case of women journalists - with sexual harassment and violence. Another worrying trend is the stigmatizing of journalists and their work by political leaders. We also see smear campaigns being widely used to discredit and attack journalists and to tarnish their honest reporting.
The use of laws to suppress and criminalize journalists is a truly disturbing trend. What can your mandate in the UN do in terms of legal support to protect journalists?
Unfortunately criminal libel, a legacy of the colonial times in many countries, continues to be used as a major tool to threaten and silence journalists today. There has also been a spike in vague and overly broad "false news" laws that give unwarranted discretion to state authorities to prosecute journalists or curtail media freedom. Some governments have used the pandemic as an excuse to clamp down on media freedom. According to a study conducted by the International Press Institute, 17 countries worldwide rushed to pass "fake news" emergency laws in the first eight months of the pandemic.
My task as the UN's independent expert is to press upon states to respect international human rights standards, to speak out when human rights are violated and recommend ways in which these laws can be revised or removed. The power I have is that of a moral advocate – to amplify the complaints I receive from civil society and media organizations, and press for change.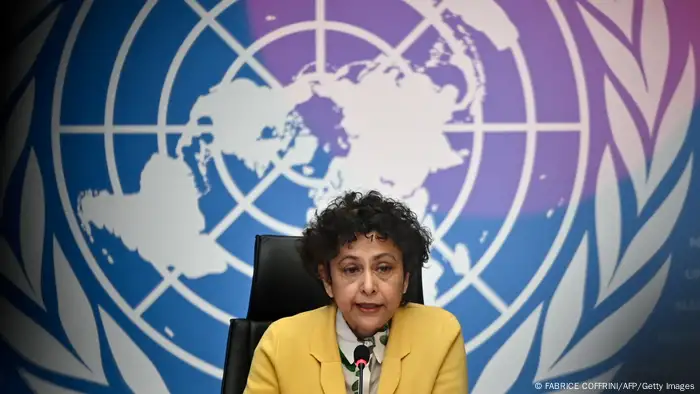 Irene Khan has been the UN Special Rapporteur on the promotion and protection of the right to freedom of opinion and expression since August 01, 2020
Does your mandate also have a preventative role in shaping proposed legislation? For example, protecting sources is an important aspect of press freedom and journalism - but what can truly be done to protect sources when laws tabled in various nations criminalize hiding sources from governments?
My mandate can - and does - propose laws and policies to governments, including good practice standards. We often submit comments or engage in dialogue on proposed legislation. I agree that protection of sources of information, including journalistic ones, is key to protecting the right to access to information.
Journalists rely on access to sources who feel sufficiently safe to share information on sensitive matters. All too often, journalists suffer reprisals for their investigative work, and are often forced to reveal their sources - who then are also often harassed, attacked, prosecuted.
In 2015, my predecessor, David Kaye, published the first report on this subject. Unfortunately, the reality is that six years later, sources and whistleblowers around the world continue to be intimidated by officials, co-workers and others, depriving everyone of information that may be critical to public debate and accountability.
Many politicians around the world are increasingly using intermediaries such as Facebook and YouTube to communicate directly with the public. Does freedom of speech no longer need free media?
Digital technology has opened up communications possibilities tremendously. Social media platforms are a major means today of reaching out directly to large audiences, not just for politicians but for all of us. Unfortunately they also provide opportunities for false or manipulated information to be easily spread and amplified at a scale, speed and reach never known before.
Unfortunately, legacy media, including local media, has come under pressure in this digital age, and in many cases is struggling to adjust to these new and challenging circumstances. However, what our experience across the world shows – whether in developed countries like the United States or the members of the European Union or in developing countries – is that social media platforms are no substitute for open, independent, and diverse media as source of public information and quality journalism, or as an antidote to disinformation and misinformation.
Media freedom is a major pillar of democracy and human rights, and must be safeguarded and nurtured as an essential element of the modern information ecosystem.
Major tech companies and policymakers are rethinking how they use algorithms to deal with disinformation. At what point do states or confederations of governments need to intervene here and protect the public good of their citizens - and from whom exactly?
Tackling disinformation is a complex endeavor, and states, companies, civil society and media organizations all need to be involved. More than a decade ago the United Nations adopted the Guiding Principles on Business and Human Rights. It sets out the respective roles and responsibilities of companies and States. While companies do not have the same human rights obligations as states, they are obliged to respect human rights in their activities and operations.
States are obliged not only to respect and promote human rights themselves but also to protect human rights by ensuring that companies respect human rights.
In short, what that in this particular instance means is that states must ensure data protection by law, and adopt regulation to compel platforms to adopt high standards of transparency and accountability, provide remedies to users and undertake human rights due diligence and impact assessment of their products and activities. The platforms must adopt human rights policies as the basis of the community standards, and carry out human rights due diligence and also as impact of their work on all human rights, including the freedom of opinion and expression.
You are the first woman to hold this mandate since its creation in 1993. When you look at the right to freedom of opinion and expression from a gender perspective, what are your main goals?
One of my top priorities is to put a gender lens on freedom of opinion and expression. I want to bring a strong gender perspective to the work of the mandate, both by mainstreaming gender in all aspects of my work as well as highlighting some distinct issues relating to women and girls.
In a recent survey by the International Center for Journalists (ICFJ) and UNESCO, 23% of women journalists and media workers who participated reported being targeted with offline abuse and attacks that they believe were connected with online violence they had experienced.
There is also considerable gender discrimination in women's access to information, a widening gender gap in internet use in developing countries, online harassment and violence against women, misogyny in the media and unequal treatment of women journalists to name just a few issues among others that require more attention.

This interview was conducted by Martina Bertram.