Rahimot waits for the birth of her grandchild. She brought her daughter in-law for an emergency Caesarean section to the St Divine private clinic in Lagos.
"She went into labor at 1am and had no more strength, so we took her in for the operation," Rahimot tells DW. In the small Nigerian clinic, the staff overcomes enormous difficulties to save lives.
Months without pay
Nurse Glory Onyenwe is the owner of the hospital. She is known in the community for providing medical treatment to those who cannot otherwise afford it. Private health service providers like Onyenwe carry the load of a Nigerian health care system mired in crisis. Most people do not have medical insurance, so hospitals must often cover the costs of patients and are then reliant on donations.
During the operation, there is a power outage — a daily occurrence. Nigeria's health sector is heavily underfunded. Private and public hospitals are not fully equipped, and many doctors go months without pay.
Doctor Lumumba Otegbeye is frustrated: "One studies so hard to become a doctor. I, like many doctors, can't afford a house to live in. It's not supposed to be like this. We save lives. It looks like we in Nigeria don't care about our own lives, but it's because we don't service those that can afford to take care of us," he tells DW.
Pandemic worsens brain drain
Nigeria has seen a mass exodus of health professionals, even before the COVID-19 pandemic took hold. In 2018, a study by Nigeria Health Watch showed that 88% of doctors in the country were considering emigration. Most go to the United Kingdom and the United States. Doctors, nurses, and care workers in other African countries leave their jobs because working environments are oftenexceedingly poor. But is the COVID-19 pandemic making things worse?
"There are no reliable figures, that could confirm this," South African anesthetist Caroline Lee tells DW. "But all around us, in the medical and business world, people talk about emigrating. Patients tell me this, too."
Lee coordinates the Healthcare Workers Care Network, which offers psychological support for health workers in South Africa.
The COVID-19 pandemic affects emigration, Lee believes. A big reason is rampant corruption in the South African government. Significant sums of money intended for fighting the coronavirus is stolen, she says. "Money for protective clothing, food parcels, social funds and jobless people has disappeared," she says.
Many South Africans have lost faith in having a good future at home.
Easier entry and passports lure health workers
Xpatweb in South Africa offers help to immigrate and emigrate. The company has current figures on available work in the job market. Referring to the Critical Skills Survey 2020/2021, Director Marisa Jacobs says five percent of employers in the health care sector have extreme difficulties in finding suitable candidates. Particularly missed are nurses, pharmacists, and laboratory technicians.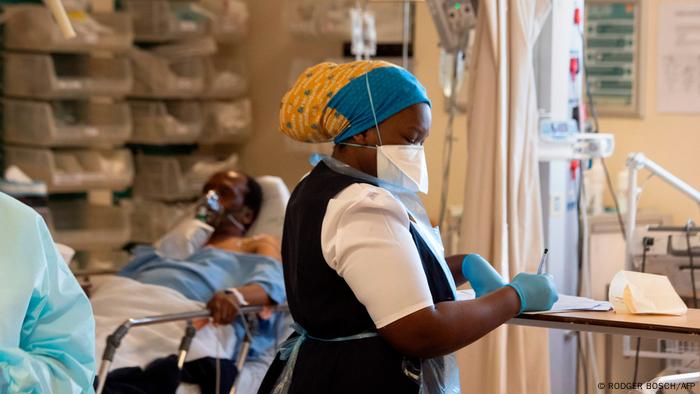 South African health workers of operate under extreme conditions
"We have seen the trend globally," Jacobs says. Emigration is attractive for many: "South Africans are looking to obtain some international experience, there are better renumeration opportunities often with posts abroad, there are also several countries that give the option to apply for a passport in the country and that opens up the opportunity to relocate."
There are some counterstrategies though: "South Africa has some fantastic university programmes and qualifications in the medical field. Foreign students come to get qualified here and there is fantastic opportunity to retain them and encourage them to enter the South African job market. That is a powerful strategy that can bolster the skills gap currently in South Africa," Jacobs tells DW.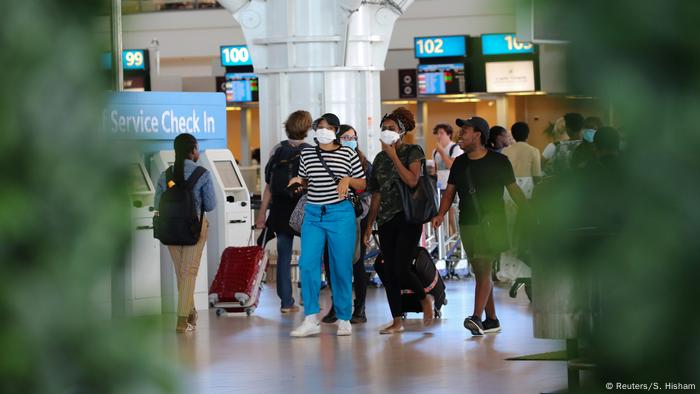 In South Africa, many health professionals are looking to emigrate
But the current emigration trend is growing — and this has big consequences for the health sector, says Jacobs. The United Kingdom for instance has selectively relaxed visa requirements for professional health workers.
"This is attractive, and increases the pressure for South Africans to leave the country," she says, adding that Canada also has simplified its entry options for graduate students.
Using the law against emigration
In neighboring Zimbabwe, countries such as the UK, Australia and New Zealand are among the desired destinations for health workers. The high workload at pandemic times and poor working conditions have also driven health sector workers to strike in recent times.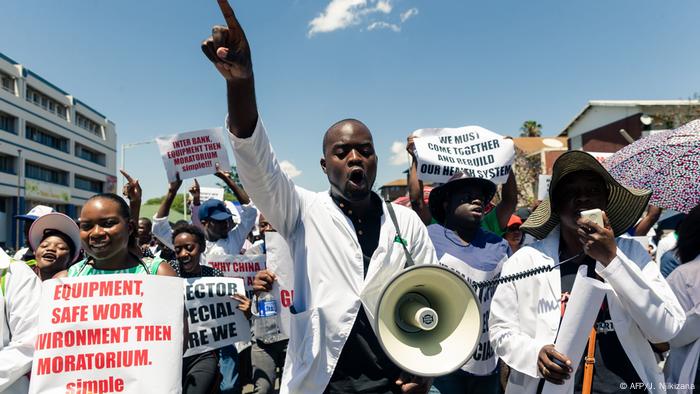 Doctors petitioned the Zimbabwe Parliament for improved working conditions and the reinstatement of colleagues fired for striking over low salaries
Now and again, protests flare up, such as in March 2020 when police arrested health care workers demonstrating against the lack of Personal Protective Equipment and low wages.
While the brain drain is nothing new, DW correspondent Privilege Musvanhiri says it has become harder for Zimbabwean health care professionals to leave the country.
The government is also currently trying to stop people leaving by putting up red tape, Musvanhiri says.
"It has passed a law that doctors or nurses who want to move away must apply for a clearance certificate from the Ministry of Health if they want to work in the United Kingdom, for example," Musvanhiri says. Additionally, clearance certificates would not be issued to doctors if they participated in strikes.
Back in Nigeria, at the small private clinic St. Divine Glory, Rahimot's grandchild was born without complication. She holds her newest family member in her arms and declares joyfully: "It's a girl."
Flourish Chukwurah contributed to this report.