DW: The Coalition For Women in Journalism documents and publishes studies on attacks on women journalists all over the world. Who is the audience that you want to reach with its results and findings, and how can these studies benefit those affected?
Kiran Nazish: Every day, we document an average of five cases of violations against women journalists such as physical assaults, police violence, imprisonments, pretentious court trials, abusive treatment in prisons, murders and the list goes on. Out of the 92 countries we have reported on, our data shows regional trends or tactics being used to stifle press freedom.
We publish daily, monthly, and annual reports, and everybody can see how the world is transforming for women journalists. The studies should be illuminating to anyone from newsrooms to stakeholders for democracy, or anyone who wants to join us to work on an equitable, just and thriving world for women journalists.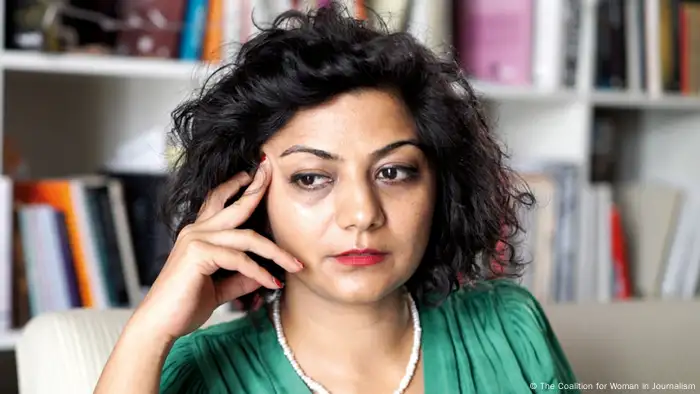 Kiran Nazish is a veteran journalist and founder of The Coalition for Woman in Journalism
To what extent are women in journalism threatened differently than their male counterparts
With the rise of right-wing, populist politics and this winter of dictatorships, we have seen some particularly misogynistic regimes. In Turkey and Azerbaijan as well as in Mexico, women journalists have faced sexual harassment by law enforcement.
One of the most ironic recent examples was former US President Donald Trump, who visibly and infectiously deliberated his gender, racial and misogynistic remarks about and towards women journalists covering the White House. Let's also not forget Ligue du LOL in France, a toxic campaign of cyberbullying by men in the industry which targeted women and members of the LGBTQ community, which was met with complete impunity.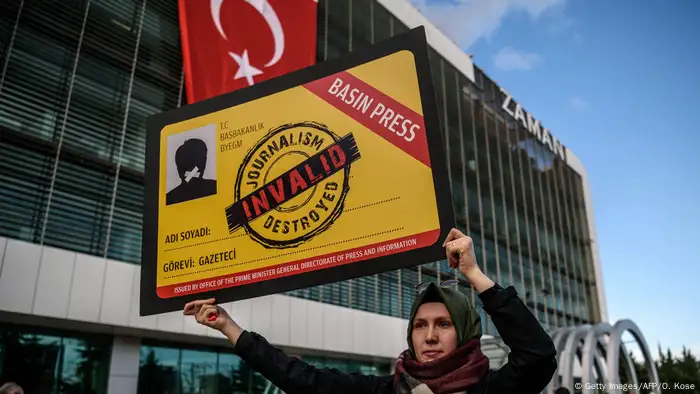 Turkey is repeatedly cited as one of the worst countries for press freedom in the world
What threats do female journalists cite most often?
This depends on the country and a nation's own inherent culture. In Afghanistan, women are afraid of very real life threats. Last year, we worked with 12 Afghan women journalists who had received Taliban threats, some of them being on hit lists. We have helped many of them relocate. The issues are similar in Myanmar, where we reported about the military raids in the middle of the night and the detaining of women journalists in unknown locations.
In countries like Pakistan, India, Mexico, and much of Latin America, newsroom misogyny and state oppression is a two-pronged challenge for women journalists. In countries, where women don't feel supported in the newsroom, they will also face greater vulnerability outside it.
Hate speech and digital attacks against media professionals have increased worldwide. What needs to be done to make the internet a safer place for women journalists?
We have to work together urgently to crack down on hate speech and make it globally illegal. In a civilized world, we should have sustainable infrastructures in place that promote a civilized discourse, and the currently rising trend of cyberbullying reflects the most uncivilized nature of humanity.
This problem goes beyond how women journalists are targeted, because cyberbullying also affects women politicians, public representatives, and many others. We need international bodies, government, media and legislative efforts to combine and work on a global solution for internet safety for journalists and other women.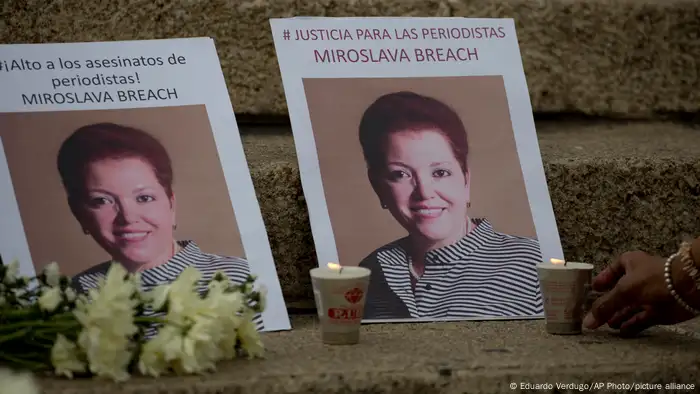 Journalist Miroslava Breach was murdered in Mexico in 2017, as cartels and corrupt officials continue to push women reporters to the maximum of what they can endure
What are the main structures that have to be tackled in order to stop violence, particularly against women journalists?
The first step is to make sure that the institutions that have been harmful to women are held accountable. This includes newsrooms, governments, police, law enforcement etc. The inherent misogyny at a national or institutional level needs to be addressed through a larger cultural dialogue.
With our work, we try to expose the magnitude of the violence against women. Our Press Freedom Newsroom exposes various kinds of violations carried out by different institutions. Our reports reveal the trends that should help democratic stakeholders understand the most urgent issues to address, to make online and offline spaces safer for women journalists.
Gender diversity is one important factor in trying to represent our diverse world in the newsroom as well. What would the consequences be for media and society if women allowed themselves to be pushed out of journalism?
Firstly I would object to this; I think we are seeing massive changes in how women and LGBTQ journalists are fighting back and questioning the norms. Even as we are reporting an increase in violence against them, we also see women and LGBTQ people standing up to the old and outdated and often misogynistic structures that were built by men in the journalism industry and in societies at large.
I see that as a sign of a possible culture shift, where accountability is the new trend. These journalists are all an outstanding resource for our newsrooms which should never let them be pushed out. The absence of diverse voices in our newsrooms would simply mean losing our grip on how we understand the world.
Kiran Nazish is an award-winning Pakistani journalist. She worked as a foreign correspondent for 20 years, reporting from countries like Iraq, Afghanistan, Mexico, Turkey and Pakistan. Having being exposed to the difficulties that women journalists face in many parts of the world, she launched The Coalition For Women In Journalism, a global mentorship and advocacy organization that aims at an equitable journalism industry worldwide.

This interview was conducted by Martina Bertram.