Margot Friedländer was born in Berlin in 1921. Several attempts by the family to emigrate after the November pogroms of 1938 failed. When her brother Ralph was arrested in January 1943, their mother turned herself in to the Gestapo, was deported to Auschwitz together with her son, and was murdered there. Friedländer, then 21 years old, went into hiding and survived for 15 months in 16 different underground hiding places in Berlin. In the spring of 1944, she encountered a patrol of so-called "graspers"—Jews who were forced to track down and extradite other Jews on behalf of the SS.
She was arrested and taken to the Theresienstadt concentration camp. There she reencountered Adolf Friedländer, an acquaintance from her work as a costume dressmaker with the Jewish Cultural League in Berlin. Together, Margot and her husband survived the Holocaust, married and emigrated to New York in 1946. In 2008, her autobiography "Versuche, dein Leben zu machen" (Rowohlt) was published. In 2010, Friedländer moved to Berlin, where she still lives today. She regained her German citizenship.
SH: For many years, you have been speaking to young people in Germany, telling them about your experiences. You are now 101 years old, what is your incentive to keep doing this even at an advanced age?
MF: Because I have managed to survive. And it means something to me to speak for those who didn't make it. It is essential that I speak not only for the 6 million Jews, but for all those who were murdered. I don't tell young people about the concentration camp and what happened exactly, they know that. I tell them what it would mean for them to experience that. That it simply wasn't human. They didn't recognize people as people. I speak about it, because I absolutely cannot process it. It's impossible for me to understand how people gave their hand to do that. To just murder not hundreds, not thousands, but millions of people.
How do you experience the young people you meet?
I really have to say, I didn't even realize how it was coming across. But I have received countless thank-you notes in which they tell me: We have heard you, it has touched and shaken us tremendously. We understand you, you can count on us. So many children then send me very wonderful letters of their gratitude and appreciation for what I do. That makes me realize I have achieved something, just by speaking about it.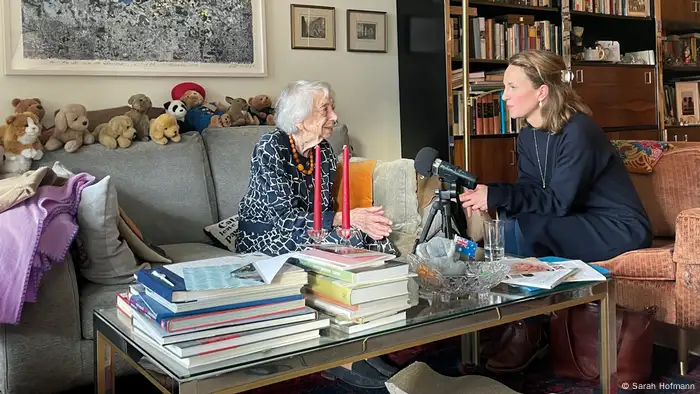 Margot Friedländer and Sarah Hofmann
And how do you feel about telling this story over and over again? How difficult is that for you even today, or is it getting easier?
I don't have the justification to think of myself after what happened to the millions. All of you help me by listening to me saying that I have hope that something like this will not happen again. For people to realize what has been, that it was not human—that helps me, because we cannot change it. It must not happen again. It is something so unimaginable for your generation and even when I talk to you today and ask, if you can understand it now, they tell me we can't understand it. Millions were cheering then and those who did not cheer looked away. They too are at least as guilty. Why did so many look away, and why did so many cheer? In front of their neighbors, people of all ages have been dragged out of their homes and into trucks. People have been beaten and abused in front of people who silently watched or looked the other way. Can it happen again? I talk about it as a warning to you. Never, never do I hope that you will be the people who would allow something like this to happen. Because at least I can speak for those who didn't survive it. For the millions who were murdered. That is my mission. Don't let this happen again!
You lived in the US for more than 60 years. Your husband—who survived the Theresienstadt ghetto with you—never wanted to return to Germany. After his death, however, you decided to move back to Berlin, the city of your birth. Why?
I was born in Berlin, a true Berliner. When I came back to Berlin for the first time in 57 years in 2003, I felt "at home", and I said, I am so happy to have been born in such a beautiful city. Inwardly I thought, well, if I were younger, I would consider coming back. Seven years later—in 2010—I did it. I am German —this is my home. It was also the home of my parents and ancestors. My father was highly decorated in WWI, he lost a brother for Germany, my mother lost one, too. My father did not recognize it at that time, he said, they do not mean us. Even in 1935, when my aunt, my mother's sister, and her husband left for Brazil, my father said, I can't understand you, you are giving up your good business. Until 1938 he did not believe it. My uncle disagreed. Who was right? Kristallnacht was the moment when many, many said, now we believe it, now we have to leave. By then it was too late. Still, when you ask why I came back: One big factor was that Germans helped me in the difficult times. Germans were people, too. They hid me, shared their bed and food with me. There was people who did not look away, who did something that could have cost them their heads. It wasn't just the 16 people or so who helped me. It's not like I was the only one who went into hiding and was helped. However, there were too few. But it shows that something could have been done. If more people had stepped up, it wouldn't have happened to this incredible extent, because when you think about how outrageous it was… It's unbelievable. I'm glad I can tell you about it today. I am grateful every day. This has become my life.
In 1944, you were arrested not far from where we're sitting right now, on Kurfürstendamm. How does it feel when you walk along this street today?
Because I made it, and I can walk along there today, I often say to myself: you made it, you are here. Those who betrayed me and many other Jews, did not survive, even though they were promised they would. There were also Jews who betrayed others, that is something that hurts a lot. But I don't know how I would have behaved if I had been told that you could save your mother and your brother. It's still very difficult for me today to even comprehend what was in the character of those people.
In recent years, anti-Semitism has again increased sharply in Germany and Europe. Are you worried about Jews in Germany?
I have to tell you honestly: anti-Semitism is nothing new. It has always been around, and I think, unfortunately, it always will be. We can only hope it stays on a small scale. It's always people who are looking for something, who are never satisfied with their lives, even though their lives have always been in their own hands from an early age. That's why I always say to students: My brother Ralph was 17 when he came to Auschwitz, he was always top of his class, but he never had the chances you have, don't throw them away. You are learning for yourselves, not for your parents, not for your teachers—it is for your future. You have it in your hands to make your life. Do your best, don't look for the impossible. I try my best to be human, because I think there is something good in everyone. And that is how the bad fades away. To say to the people I meet, look at what I have experienced, and I am not bitter. I am confident because I now meet many, many people—especially young people—who hope for a good future.
You also meet many politicians. How do you view democracy in Germany?
I am very, very confident. Steinmeier gave a speech the other day, for 80 years of the White Rose. In his speech he quoted me. He wrote to me, and the signature was, "Your friend", first name. I see the government and I am very confident for the future.
Recently you were awarded the Federal Cross of Merit, First Class. What does such an award mean to you as someone who was deprived of German citizenship, who was persecuted?
It's a relief for them, for the Germans. It doesn't matter to me. The thank you letters I receive mean much more to me, because they tell me you have achieved something. The government can't make up for what happened, but people feel the enormous burden it is for us. We who have survived it are not the same people anymore, we are different. It's something that always holds us back from having a normal life, that is, enjoying ourselves without thinking. For me, it's a great help to speak for those who haven't made it.
You say you speak for those who didn't survive it. You wear the necklace of your mother, who was murdered in Auschwitz, as was your brother. Is your mother also always present in some way when you speak?
It is something unimaginable for me. A gratitude that you can't describe. A gratitude for my mother. The strength she had and the weakness. What it must have been like for her to leave a child behind and say, I'm going with Ralph, wherever. A mother knows her children. She must have hoped I was the stronger one. But where did she expect to be taken? Could she have guessed? We were always told the trains were going "to the East". But we didn't know what "the East" was. When I came to Theresienstadt and was there for half a year, I thought maybe Mutti was in a similar place. But only when the trains came from Auschwitz and I saw the people and experienced what "the East" is, then we knew what to expect. That's why when people ask me how the liberation was for me, I have mixed feelings, because that's when I first experienced what it really was. It was nice, we were liberated. But what will become of us now? We were young and inexperienced, and surely, we would have no relatives to help us. Now a new life was ahead of us. I had a middle school education, had done an apprenticeship as a seamstress for almost two years and knew a little bit about sewing. What would become of me? So I was incredibly happy to meet Mr. Friedländer in Theresienstadt at the beginning of February 1945. We knew each other from Berlin, we had something in common to talk about. We experienced the liberation together and were married in Theresienstadt in June, the day before the last rabbi left Theresienstadt. We were married for 52 years. It was my great happiness.
Speaking of that moment of liberation with mixed feelings, could you have imagined staying in Germany, the country of the perpetrators, at that time?
Not at the time. Definitely not—especially for my husband, who in no way wanted to stay in Germany, despite wonderful professional opportunities for him. But still, my feelings about Germany were somewhat different, since I had also met decent Germans. When people in New York later learned about my decision to go back to Berlin, they asked me: how can you go back to the perpetrators? I answered, these are not the perpetrators I am going to. They are the third, fourth generation. They have nothing to do with what happened. I am not Hitler, I respect people. So how can I hold them responsible for what happened? They are the third or fourth generation born afterwards, that wouldn't be fair.
What about German responsibility— doesn't that also apply to the third and fourth generations?
What happened was not right and that gives your generation the feeling we have to do things differently. That's hu[1]man and I'm grateful for that. Listen to me! Believe what I am telling you. Isn't it a good feeling for you that I don't blame you for something you can't do anything about? Isn't it human? I look at you as human beings and not for what has been done and I hope that you have the strength to help and make sure it never happens again.
Is there also something like anger that sometimes arises in you, especially here in Germany?
My husband and I both experienced the same thing and if we didn't feel well, we knew why. We didn't need to speak. What good would it have done us to be angry?
We wanted to try and make a life for both of us that would bring us satisfaction and a certain security. That was our desire in the US. We also didn't talk about it with our friends who had managed to escape Germany in time, because almost everyone had relatives who had perished. Why should we make it even harder for them? I really only experienced good things from the first day in Germany, from the first reading on, after my book was published in 2008. I gave readings in a lot of German cities, in schools, churches or organizations, and people understood me and were grateful to me for talking about it, despite everything that happened. It is my life today and I speak for those who can no longer do it. It has given me a life. I turned 101 years old and I feel gratitude, especially for the fact that my head can still think totally clear and I can still talk to you about what has happened with the hope that it will never happen again— For all of you!